COCHABAMBA, BOLIVIA — I found Jesus. It wasn't hard to find Him since this is the tallest statue of Christ in the world. At 33 m (about 40 m if you include the pedestal) it's just a few centimeters taller than the famous statue of Christ in Rio de Janeiro. The statue stands on a hill right in the middle of the valley, so you can see it form anywhere in the city. And if you want an even better view, you can climb up the stairs inside and look out from the top.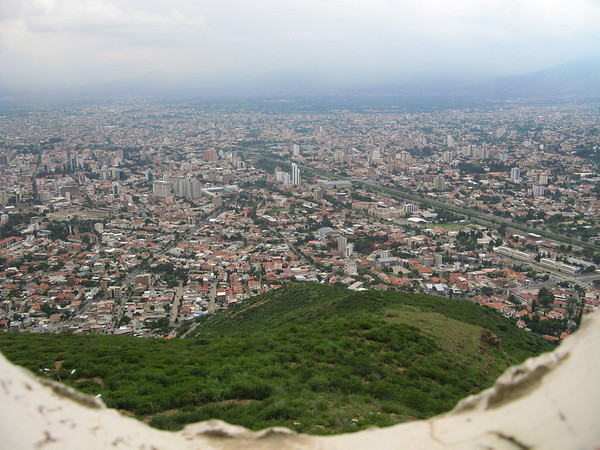 Cochabamba sprawls across a very nice valley in central Bolivia, however I can't say that I really like the city that much. It's not that it's a bad place, it's just not terribly interesting.
That said, there is one thing that has kept me here a couple days longer than expected. The food. I'm not talking about anything fancy, expensive, or innovative. In fact, everthing I like can be bought from street vendors. Let me give you a couple of examples.
Maybe I have just been in the mountains too long, but Cochabamba seems to have an amazing amount of fruit. My first day here I walked through the central market and discovered numerous stalls where women were making fresh fruit salads. I decided to take the plunge and ordered one from a friendly lady named Lisbeth. She instantly started cutting up fresh fruit - bananas, pineapples, oranges, strawberries, grapefruit, apples, mangos, peaches, and grapes - which she dumped into a large bowl. She topped the whole thing off with some canned peaches, fresh yogurt, jello, and freshly grated coconut. The end result was an absolutely huge bowl of fruit that I could barely finish. Total cost in U.S. dollars: about 40 cents. Lisbeth's fruit stand has been a regular stop for me every day since.
The other food to which I became quickly addicted are rellenos. Relleno is a pretty generic Spanish word to describe a food, but it generally refers to something like a sandwich or something with a filling. In Cochabamba rellenos consist of a layer of mashed potates surrounding a mixture of meat and vegetables - beef or chicken with onions, peppers, tomato, etc. - which is then dipped in a batter and deep fried. The closest approximation I can think of is a New York knish, but these are much better. I'm sure they are terrible for you, but that doesn't change the fact that they taste incredible.
I'll be moving on pretty quickly, but not until I make another pass through the market for some food!